Your First Chameleon by Bill Strand, the host of the Chameleon Breeder Podcast, is an eBook which condenses the basics of getting your first chameleon into a short book. This book is not meant to give all the answers, but to provide a quick 30 minute overview so you can decide whether a chameleon is right for you!
In this free download, you'll have a image rich tour of chameleon keeping with the following chapter list:
Introduction
Chameleon FAQs
Preparing For Your Chameleon
Feeding Your Chameleon
Nutrition
Common Species
Selecting a Chameleon
What Your Chameleon is Trying to Tell You
Health
MBD: Metabolic Bone Disease
Handling Your Chameleon
Where to go from Here: Looking to the Future
The download is a web quality version for quick download. The pictures will be of basic quality. Click the book cover picture below to start the download.
If you would like to see the sharpest pictures or take it to your nearest print shop to print it and add this to your chameleon book collection, check out the link below the book cover image for a larger file that will give you print quality pictures.
The download requires Adobe Acrobat or Reader 5.0 or above.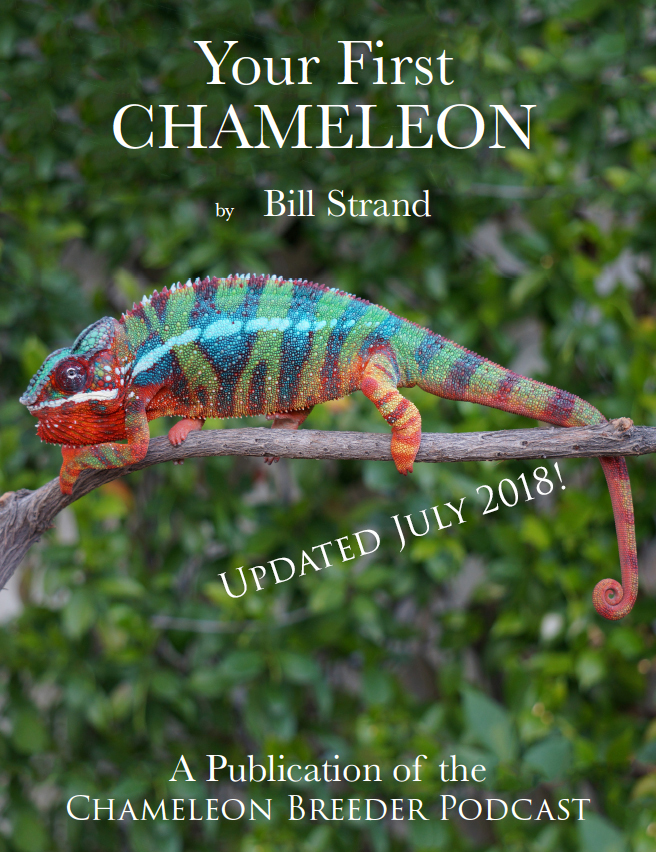 ---
Print Quality Book
If you would like to print the book, the following link will allow you to download a print quality .pdf.
This download is a print quality version for the sharpest pictures whether you print it or view online. Click the link below to start the download.  It is a large file (13MB) to capture the resolution so just be patient a bit.
The eBook also has a front and back cover if you would like to take it to your nearest print shop to add this to your chameleon book collection.
Your First Chameleon eBook Print Quality
---
Get Notifications and Behind the Scenes looks!
If you enjoy this book and would like to be notified of future publications then sign up for the newsletter which will have information on the podcast and any future publications.
Important Note! When you sign up we verify that you meant to do so by sending an email to you for confirmation. This email may go to your junk or spam folder because it will be from our email provider. If you do not see a confirmation email in your inbox check those other folders and make sure your email service knows these are not spam! (or else you just won't ever see what is sent to you!)