Today we are going to dive into cleaning products. We chameleon keepers are acutely aware of the value of cleanliness. We maintain a constant vigilance against parasites, bacteria, and fungal bizarreness. It is time we explore the cleaning agents available to us. I am bringing back Dr. Rob Coke who is the head of veterinary medicine at the San Antonio Zoo!
Here is a list with links for various disinfectants discussed in this podcast. If you'd like to support the podcast click on the Amazon affiliate links. The podcast will get a small percentage as a thank you from Amazon. This will go towards new studio headsets!
Bleach
Oxidizing Agents
http://www.virkon.com/en/products-applications/disinfectants/virkon-s/
https://www.qcsupply.com/340340-virkon-s-broad-spectrum-disinfectant.html
http://www.syndel.com/products/biosecurity-supplies-disinfectants/virkon-auqatic/virkon-aquatic-10-lb-tub-virkdlb0010.html
Phenols
http://www.sterislifesciences.com/Products/Surface-Disinfectants/Pharmaceutical-Disinfectants/1-Stroke-Environ-Germicidal-Detergent.aspx
https://www.qcsupply.com/tek-trol-disinfectant.html
Biguanide
https://www.amazon.com/F10SC-Veterinary-Disinfectant-F10-SC/dp/B00DR25TSG
Chlorhexidine
https://www.zoetisus.com/products/cats/nolvasan-solution.aspx
Quaternary Ammonium Compounds
https://www.cloroxprofessional.com/products/clorox-broad-spectrum-quaternary-disinfectant-cleaner/at-a-glance/
https://www.cloroxprofessional.com/products/clorox-germicidal-bleach/at-a-glance/
https://zoomed.com/wipe-out-1/
http://animalsafety.neogen.com/en/parvosol-2-rtu-disinfectant
http://www.odoban.com/products/odoban-concentrates.php

Accelerated Hydrogen Peroxide
https://sealedair.com/diversey-care/diversey-care-products/infection-prevention/ahp-accelerated-hydrogen-peroxide
https://www.cloroxprofessional.com/products/clorox-healthcare-hydrogen-peroxide-cleaner-disinfectants/at-a-glance/
http://www.viroxanimalhealth.com/index_us.php?page=companion
---
The Dragon Strand cage talked about that has an extra floor panel is the 48″ tall Large Keeper Screen Cage Kit. In this kit you get a large Keeper Screen cage (23.75″ x 23″ x 48″), a set of Dragon Ledges, and an extra floor panel. This kit has what you need to set up your cage with plants and branches anchored to the sides leaving the floor clear and very easy to switch out floor panels. This kit was designed for cleanliness in mind. Click on the picture to check it out.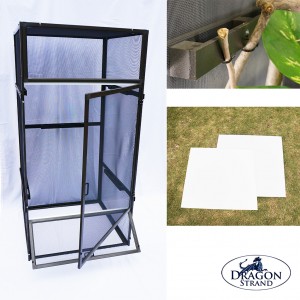 ---
Are you on an iPhone or iPad? Then there is a free Chameleon Breeder Podcast app which serves as a convenient episode storage and you are the first ones to get the new podcast episodes! Click on this link to go directly to iTunes to grab the app!