Exposing your chameleon to natural sunlight brings great health benefits.  In this episode we explore how you can accomplish this in your husbandry as simply as moving your indoor cage out to the patio for a couple hours or as in depth as building a permanent outdoor cage.  Building outdoor cages is great fun and few things are as impressive as a healthy chameleon in a well planted outdoor cage!                                                                                                                                                                                                                           .
---
For a look at a simple and effective outdoor caging design take a look at this PVC cage constructed by Dru Reeves.  He has graciously allowed me to link to his caging design tutorial here. PVC Outdoor Hanging Chameleon Cage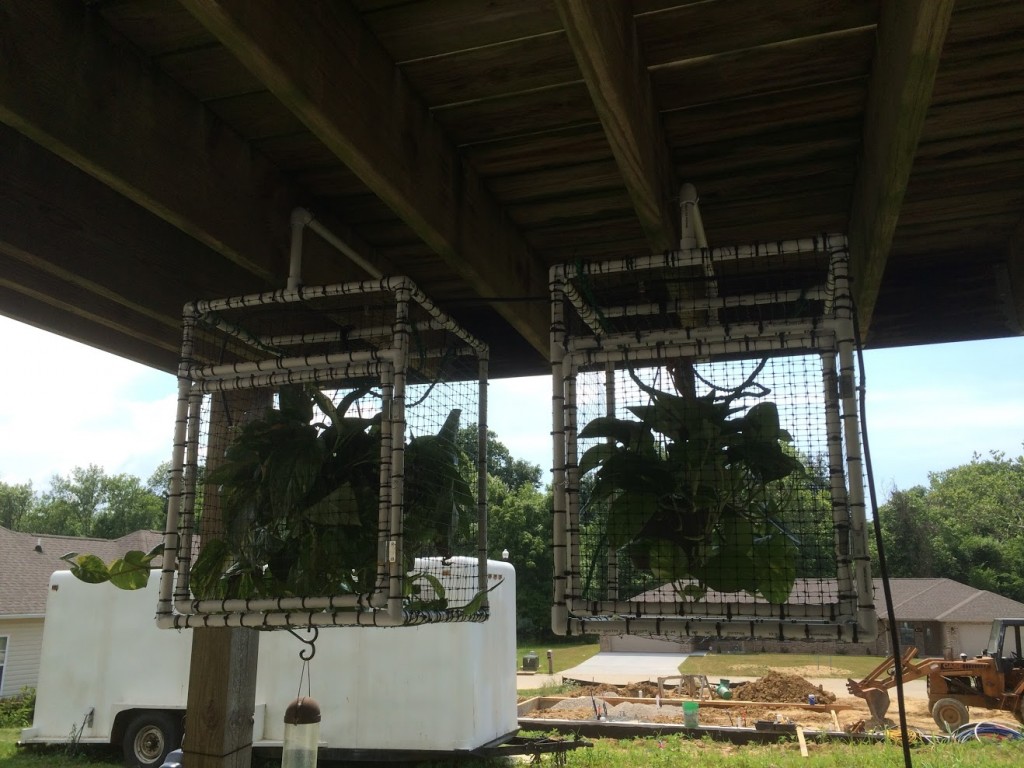 ---
---
Transcript (more or less)
Today's poetry reading is based on Locksley Hall by Alfred Lord Tennyson
In the Spring a livelier iris changes on the burnish'd dove;
In the Spring a young man's fancy lightly turns to thoughts of outdoor caging for his chameleons.
The bright sun shines. Vitamin D is synthesized.
Calcium is absorbed. And bones are rejuvenized.
Some artistic license may have been taken with that classic, but I hope good Tennyson would approve.
Good morning on this fine March 2016 day. We are coming into the Spring time and things are warming up enough for us to start thinking about getting our chameleons outdoors into some natural sunlight. So, that is what we will talk about today.
But first I'd like to give a shout-out to all of our UK chameleon wranglers. If you open up this month's issue of your Practical Reptile Keeping magazine on the newsstand your are going to find the Chameleon Breeder Podcast featured in an article. I talked with them about some basics of keeping and breeding chameleons. You'll know the issue by the big female deremensis on the cover. Thank you UK!
At the podcast here we are huge proponents of getting your chameleons outdoors as much as is possible. We struggle to give what chameleon's need as far as nutrition in the captive environment. Our UVB bulbs are pretty weak when compared to the sun and whether our manufactured bulbs truly contain everything needed is to be seen. Not to say complete indoor raising isn't possible, because with the right combination of those UVB bulbs and vitamin/mineral supplements you can raise top of health chameleons. It is a victory that our science and products have gotten us that far! But a couple hours a day or even just on the weekends gives your chameleon a dose of exactly what he was designed to use. You have a great source of chameleon health on your patio and backyard – if you can at all take advantage of that then don't let it go to waste!
This would be a very short podcast if it were as easy as just putting your chameleons outside, but it is not so. Therefore, you and I will be spending sometime together. We will start talking about windows, move to afternoon sunnings and then spend the bulk of our discussion on permanent outdoor caging.
Windows
Windows are tricky beasts for your temperature regulation and filter UVB from the sunlight. So the only benefit is that your chameleon gets a natural lightening and darkening at the edges of the day instead of the on/off of their fluorescent lights. If you have double pane, high energy efficient windows then you will not get substantial heat or cooling through the window, but if you have single pane glass you want to be very careful that your chameleon can escape from the sun. That heat could easily become overwhelming. During the cold months, the window can be a huge cold panel which can create a polar microclimate. Placing your chameleon cage by an open window will give UVB benefit, but be very careful about making sure your chameleon can always get out of the sunlight. Remember, the sun moves and so does the areas it hits. You creating the perfect balance at this particular point in time is wonderful, but in 15 minutes you have a different lay out. Take the sun's path into account.
Use Indoor Cage
The easiest way to get some outdoor goodness is to just wheel your indoor cage outside. And for most people, this is how it will happen. Your first consideration with this strategy is that your light source just got supercharged. Our fluorescent lights are pitiful compared to the natural sun and our cages are set-up to create heat and light gradients with those pitiful fluorescent and dome lights. The sun laughs at your puny attempts to block its rays. And that white floor of yours? Well, white is a good reflector (which is why chameleons get pale when they are over heated – hey, physics!). While indoors we are lucky if the light makes it down to the floor, outside, the suns rays are powerful enough that they will bounce off the floor and heat your chameleon from the bottom. Sounds nice and toasty, but that wonderful feeling sauna soon becomes a little too much and then it can easily cross over into the heat stress territory.
If we just wheel our indoor cage out to the back patio and leave Godzilla to his basking he very well could get too much sun. We might come back to a pale white, eyes closed, mouth open, dehydrated, hiding in a corner lizard that, if we came back any later, may have shuffled off this mortal coil. (by the way, that was Shakespeare. You guys are scoring in the culture department today) For afternoon sunnings in the normally indoor cage, heat stress is our biggest worry. It is too easy to get caught up in your book or the outdoor chores and then forget to check on your chameleon. Perhaps set a timer on your smart phone to remind you to walk by and see how the little guy is doing.
So how do we combat heat stress? You can do any number of the following strategies as is appropriate for your situation. The first is to place the cage so it is partially in the sun and partially in the shade. Remember, though, that the sun moves. The second is to create your own shade by placing shade cloth over part of the cage. Remember that sun moving thing again. Now, you can take advantage of the sun's movement by placing your cage so that it gets direct morning sun, but is blocked during the afternoon heat. Placing your cage on a covered patio accomplishes this beautifully. The third is to cover the bottom of your cage in potted plants. The reflection will be interrupted and the moist soil will provide humidity. The fourth is to install a misting system to go off on a regular basis. This is getting a little more complex, but there are plenty of homes that have installed outdoor misting systems. These can be found at any home improvement stores. You can also create these systems from drip line irrigation parts at those same home improvement stores.
Tree Basking
Another easy way of your chameleon getting outside time is to put him on a bush or tree. He can then figure out the best place to bask and if he wants to retreat into more shade he can. But there are a number of issues with this strategy. The first is losing your chameleon. While you are relaxing with a book and iced tea he is watching for a chance to give you the slip. They can move pretty quickly when they want to.
Predators are an issue. Hawks, falcons and other predatory birds are on the look out for lizards to eat. They are clever enough to figure out how to snatch a chameleon away even with you in the vicinity. This is not a theoretical danger. I have read about heartbroken chameleon keepers who have had to watch their chameleon being carried away by a bird. I am just grateful that I have not had to report this from personal experience. I do use the tree method occasionally for breeding attempts on neutral territory (because sometimes you just got to change it up) and I am always nearby scanning the sky with a big stick in hand that I can throw at any opportunistic bird.
Building a portable outdoor cage
Building an outdoor cage does not have to be as intimidating as it may sound. With just a little bit of study, even the no-so-handy-with-tools among us can easily create seasonal "natural sunlight vacation" cages. When I say "portable" I mean cages that can be moved about as needed. As I was preparing for this episode Dru Reeves, an admin for the Facebook group Chameleon Central USA, posted a wonderful tutorial for some cages made from PVC tubing and connectors. This material can be found at any home improvement store. I am linking to this tutorial in the show notes at chameleonbreeder.com so you can see if that is of interest to you. Dru created a PVC frame and wrapped it in netting. He then hung it from a patio roof with a home misting system above it. The placement of the cages allows the morning sun to hit the cage and warm up the chameleon. By the major heat of the day the roof is blocking the direct sun to prevent heat stress. Note that there still is UVB benefit in indirect sunlight! The misters provide the hydration and cooling if necessary and being suspended from the roof protects the chameleons from your average predator. A chameleon could live the summer in a cage like this.
A great benefit of having an outdoors cage is being able to use outdoor plants, but this does mean you are looking at something a little bit more substantial. Of course, you can just get a cage of some sorts and put potted plants in it, but you can take your experience to the next level by putting a cage over a planter box and having a natural plantscape grow up inside the cage. Nothing makes a cage more beautiful than naturally grown plants that have made the inside of the cage their home as much as the chameleon has. Their growth will create a wealth of microclimates. The easiest way to do this is to buy or build a wood planter box and then get a standard screen cage to put over it. The cage can be screwed down to the wood planter box frame to avoid it blowing over. You can do this with any standard screen cage. Put wheels on the planter box and you can move your mini forest to the best place on the patio! I suggest not going below the 48" size cages because you will want space for the plants to grow. And they will grow. In fact, if you do it right, you will be pruning inside soon enough to make sure it does not turn into one solid plant mass!
You keep hearing me talk about the Dragon Strand screen cages being rust proof and I did this because I wanted to be able to use these cages in greenhouses and outdoors. This was important for me to design in because, where I live, my outdoor cages are used year 'round and I do not want to disrupt my plant growth.   But any of the cheaper screen cages will work for this strategy especially if you plan on redoing the cage every spring because the plants will have died back in winter anyways.
I build a planter box, put a bead of silicone on the top of the frame, place the screen cage on the silicone bead and then I screw the bottom screen cage frame to the planter box.
You could, of course, do the same thing for a wood cage or even a PVC frame cage like Dru's example. When you are thinking about materials, keep in mind that this will be outdoors and possibly in wind, hail, bird attack, and raccoon investigation. Give some thought to putting wheels on that planter box bottom (before you fill it with dirt). That gives you full flexibility to move it around.
Building a permanent outdoor cage
And we finally get to my favorite part! With a little skill in woodwork, (just a little!), you can create a large permanent outdoor cage that can be landscaped to be functional, beautiful, and very low maintenance. Put an automatic misting system connected to a hose nozzle and your care responsibilities are reduced to providing food and weighing your chameleon on a weekly basis. With a cage that goes from ground level up to six feet tall (or more) you have the ability to landscape and create substantial gradients and microclimates. The formula I have used with great success over the last couple decades is a cage at least 2 feet by 2 feet by 6 feet high. Anything larger than this just gets better! I will break down what I have done and you can adjust according to your situation.
Your geographic location, your success in optimizing your cage location, and the species you are working with dictates how long you will be able to keep your chameleons outdoors. For example, a Jackson's Chameleon in Southern California could live 100% outdoors in the right permanent outdoor cage set-up. There are so many variables, species, and environments that it would be a huge book to cover them all. So, in this podcast episode, I am going to describe a sample outdoor cage. The same basic principles will apply to your situation. You will just have to customize them for your particulars.
First let's consider location. To start off with I always have an earthen floor. I use the ability of the Earth to hold moisture to give me a humidity gradient. In fact, I will have no cage outdoors without a dirt floor. In a six foot heavily planted cage I can even over summer a cooler weather species such as quadricornis even when temperatures are over 100 degrees F. This is because in a heavily planted cage surrounded by thick vegetation and protected by a wall, the lowest 12" of the cage can be dark and down right cool in temperature. The misters keep the ground moist and the thick plant growth keeps the bottom on the cage in heavy shade. The thick plant growth also provides protection from the cold during the Fall and Winter. Of course, winter for me is in the high 30s so I could not overwinter chameleons as easily elsewhere.
I like to select a cage spot that is South facing. At my latitude (California), the summer sun blazes from high in the sky and the winter sun tracks across the Southern sky. So my challenge is to protect against the summer sun while maximizing the winter sun. Much of my listenership is in the same situation, but for those of you South of the equator, it will be reversed.
Ideally, I will have a wall behind the cage and large bushes to either side of the cage. This means that the direct sun has only the front and top of the cage to shine in. You really only need one good spot for the sun to hit the cage and put a basking branch right there. If you live in a sunny warm area then have one good sun soaked basking area and the rest in varying levels of shade. In cool times you'll be looking for more exposure.
Let's talk about outdoor keeping considerations:
1) Dealing with the heat
The best way to deal with the hot times of the year is with lots of shade and misters. The higher the humidity the higher the temperatures that chameleons can handle. A chameleon that may be on the verge of heat stress here in dry California may be quite comfortable at the same temperature in the humid summer of Missouri. Although you can read the books as to the upper temperature range of your species of chameleon, keep in mind many of those ranges are estimates and taken from one person's experience in a certain range of conditions that may or may not be identical to yours. I would much rather you learn the signs of heat stress than stick to numbers in a book. Be extra vigilant when things get hot as you need to get a feel for your conditions. And the only way to do that is to observe. Chameleons show heat stress by getting lighter in color and by gaping to try and cool off. They will retreat into shade and get as low in the cage as the can. If your chameleon retreats into your leafy cave that is good. If your chameleon starts going low that is good. If you chameleon is as low as he can go and starts to get pale it is time to start reconsidering as something is not working. Look at increasing your misting and increasing the amount of shade by draping shade cloth. If your chameleon progresses to gaping then whatever you have tried is not working enough and it is time to bring your guy into a cooler area. If your chameleon goes beyond gaping to shutting his eyes then it is red alert time. Do not let it get this far.
2) Dealing with the cold
Chameleons deal with the cold pretty well. They slow down and come back to moving about when the sun comes out. Chameleons can handle the cold much more than we think they can, but to go into the 50s and below starts to push it for many chameleons. Montanes, like Jackson's Chameleons, will handle that without a problem as long as it is clear and sunny the next day. Panther Chameleons, on the other hand, will take a little longer to recover from it, but will be no worse for the wear. The important thing is that the chameleon be given a chance to warm up during the day. If you have chilly nights into the 50, but the days are clear and rise into the 70s or even high 60s you can still have most chameleons outdoors. If your nights are chilly and your days are chilly and cloudy then the chameleon does not have a chance to warm up and his health will start to be challenged. The danger is compounded by adding rain to the mix. Cold and wet without the chance to dry off and warm up during the day is not a good combination. So let's go into signs that a chameleon is getting to the limits of its cold endurance. And you'll note that I am being vague and high level here. That is because a chameleon like a Panther Chameleon will quickly fall sick outdoors in the Pacific northwest, but a quadricornis will enjoy the cooler, wet conditions much more. Remember that chameleons inhabit such diverse environments from hot humid tropical rainforest to snow covered mountains to cool forests to sand dunes to scrub brush. Each one will handle your environmental conditions differently. Sign of being cold are getting dark colored and retreating low in the branches at night. A cold chameleon will not move much. In the morning it may take a while for them to open their eyes. On mornings which are even colder you may find them hanging by their back legs or even having fallen to the ground. When it warms up they will wake up and make their way to the sun. I do not have any information as to at what point internal damage is being done. They certainly seem to recover and go on with life easily enough, but I am pretty comfortable in saying that I don't recommend pushing it. I will share my personal measuring stick.   I go outside every morning when the sun comes up and see which of my chameleons has their eyes full, bulbous, and alert. If any of them are groggy from the cold I know I have reached my self designated limit for that chameleon individual. And I cannot give you a temperature for your species of chameleon where that happens because we all have different conditions and temperature, although a major one, is not the only consideration. But I will say that I like to bring my panthers in when nights are in the lower 60s. Veileds come in when we hit the mid 50s. Jacksonii stay out until the mid 40s. Those are my limits. You can use these as a starter guide and make your own observations as to what is right for your chameleons in your situation.
Now, a note. There will be an outcry about keeping chameleons in temperatures below the mid 60s because that is when we humans start to feel cold and we wouldn't let our children go out in that temperature. How could we let our chameleons be out in the cold? The answer is to do what you feel comfortable doing. If you want to bring your chameleons in when you are cold then that is fine. Feel good with your decision, but realize that keeping chameleons out in weather that you are not comfortable in is not necessarily a problem for them. In fact, some chameleons depend on seasonal variations and will brumate, which is a intermediary step to hibernation. These chameleons rely on a cool down. It is hard for us to tell how much they need it and how much they just have developed to survive it, but internal clocks are set by the seasons and environmental cues. If you have a pet it may not be a consideration, but for people who are working with breeding and reproducing certain species, a cold period may be necessary.
3) Dealing with the wet
Rain is great and giving your chameleon a natural water cycle can't be bad, but beware of cold rain extended over a number of days. I have had chameleon weather cold wet nights just fine if they can warm up in the sun during the day. When the rains come in my area they tend to be cold and I am extra vigilant for any signs that a chameleon is not waking up in the morning or is not able to warm up. As much as I say that chameleons can handle more cold than we give them credit for I also do not subject my chameleons to cold and wet. I know chameleons can handle more than I am comfortable with putting them through but I am not interested in exploring these limits. So, although I have some pretty thorough experience with dry and cold, I fully admit that I have chickened out with wet and cold.
4) Dealing with Insects
Your cage will eventually be visited by members of the stinging family including bees and wasps. And if you like to populate your cages with flowers like I do then bees will definitely find their way. Unlike sensible humans, not all chameleons have read that they should avoid bright colors and some of them will eagerly go after this colorful morsel. As they are chewing on their catch they will watch, with amusement, as their human writhes in agony, praying to whatever deity they believe in that their chameleon will survive. Chameleons snag their food, shock it, bring it back and chomp the death bite before most food items know what hit them. Most of the time your chameleon will eat a bee or wasp without incident. That said, there is the danger of the hit not going perfectly or a mud dauber wasp with a highly mobile stinger section getting a hit right back at your chameleon. This is one area where I am just fine having a possibly over protective position. If your chameleon does eat a bee and got the death chomp right then don't worry about stingers messing up their insides. It will get dissolved like the rest of the bee. I do not know how poisonous an actual sting is to a chameleon. I do know that my Jackson's Chameleon ate bees when I let him bask in the sun on a tree and I was the only one suffering because of it.
Ants will find a way. How much of a problems ants will be depends on the species of ant and how aggressive it is. Argentine ants usually only attack the feeders, but if a fire ant mound bubbles up inside your outdoor chameleon cage you may want to pull Godzilla inside for a spell. You can repel ants by having the legs of your planter box in bowls of water. I created a system for myself that had a planter box resting on bricks that were placed in the middle of a terra cotta water dish. The planter box has a drain system that drains into the terra cotta dishes to refresh the water level daily. And I need to check it every day to make sure a leaf bridge isn't created or a plant doesn't grow and bypass my water barrier. Ants will find a way and at my place they do so within 48 hours. I am still working out the kinks with this system such as how to keep mosquitoes from breeding in the pools of water. I have a couple things I am going to try, but I need to keep the water barrier but I can't do anything that would poison any animal that drinks from the dish. If you have any ideas then post it please! I'll keep you all informed as to how things go with this. The reason I am going to such lengths to keep ants out of these particular cages is because these are my baby cages and ants have no problem taking down baby chameleons given the chance.
5) Dealing with Predators
Sooner or later the local birds, opossums, raccoons, lizards, rats, mice, and snakes will notice something is up in this cage. Design your cage to account for these predators. Using metal hardware cloth or screen is pretty much mandatory. I can already tell you that plastic hardware cloth will have rodents chewing through it. Personal experience, unfortunately. You can find galvanized or PVC coated 1/2" or ¼" squared hardware cloth. Hardware cloth is not cloth at all, but a grid of wire so when it is laid out you have a bunch of squares. You see this on chicken coops and such. This does get expensive, but it is the way to avoid heartbreak. Unfortunately, it isn't as easy as just wrapping your cage in hardware cloth. Animals can still try and get at your chameleon. If a chameleon is perched on the side or top of the cage passing animals can try and pull your chameleon through the cage wall. Birds can grab your chameleon with their beaks. I have lived through both of these so I can tell you this is not theoretical. One way to make this much more difficult is to make a cage out of 2x3s or cage panels out of 2x2s and wrap both sides in hardware cloth so you have a dual layer of hardware cloth 1 and ½" apart that an animal has to get through to get to your chameleon. Going to a ¼" square makes it even harder.
You may also find friends in your cage. Local lizards will be attracted to all the food that shows up in this cage. You may find a huge specimen of a local species living life in paradise in your naturalistic cage. It is not uncommon for me to find alligator lizards that snuck in when they were babies and just stayed until they were too big to get back out. And, of course, why would they want to leave? Food, water, and protection from predators? Yeah, that freedom thing may be overrated… These aren't necessarily dangerous to your chameleon unless the size difference is major. All of my babies and smaller species are in those standard aluminum screen cages screwed on to planter boxes so things like lizards, spiders, and praying mantises will not be able to get in.
6) Parasites
Good news and bad news on the parasite front. The good news is that your chances of direct lifecycle parasite re-infection goes drastically down because the poop falls to the ground way below. And any feeder insect that has made it to the ground is unlikely to be eaten. The bad news is that your chameleon will now be exposed to reptile parasites from the environment. From the alligator lizard that crawls into the feeder cup to the birds who were just hopping around lizard poop in the great outdoors now hopping around the top of your cage there are a wide number of ways that parasite eggs can be delivered to your chameleon without you knowing. The job of the parasite is to create so many eggs that some of them eventually find their way to a host. This isn't necessarily something for you to panic about, though. You are now creating a much less stressful captive environment for your chameleon and the host/parasite relationship is much more in balance. Just don't panic when you do your annual fecal and you find some parasites. The benefit of outdoor living vastly outweighs the burden of some parasites. Obviously, this assumes there is a light load. If it is a heavy load then you need to figure out what is going on as that is not the life experience we are looking for.
7) Live bearers
A note on live bearers – use ¼" hardware cloth or smaller to house females. Babies will be able to squeeze out of the ½" hardware cloth and their first instinct is to scatter. They will do so.
8) Misting systems
Watering your chameleon gets pretty easy. Check out the ¼" tubing drip systems at your home improvement stores or the patio misting systems. Hooking this up above the cage and having it run by a garden hose timer makes for an easy set-up.
If you intend to have this cage be for more than just one season consider setting up the system so you can switch between full sprinkler/misting and a drip system. The sprinkler/mister can be used during the summer months when you want to hydrate and cool while the dripper can be used during the cooler months when you need to hydrate, but do not want to cool.
Remember that fine misters are not friends with hard water. You may need to install a filter on the water feed. Check for these with the patio misting systems.
9) Dealing with not seeing your chameleon
I specifically bring up weighing your chameleon because a certain wonderful thing happens when you set up an outdoor cage. You can create a natural paradise of plants and branches. If done densely, which is the way to ensure multiple microclimates and feelings of security, then your chameleon may not always be on display for your viewing pleasure. With more opportunity to fade in and out of view your chameleon may hide out for a couple days at a time.
This will take getting used to by keepers that check on their chameleon many times during the day just to verify that he is still breathing and his every whim is catered to. To go without seeing your beloved dragon for a couple days would be torture! That is part of the acclimation period for you. Your chameleon will love the freedom to hide or be in the open as he desires. And, really, I found I enjoy not seeing my chameleon everytime I look at his cage. The fact that I only get a glimpse of him every other day makes that glimpse special. Of course, I am talking about my quadricornis, which is a very shy species. My panther chameleons don't use their hiding spots much and are just waiting in the open for me to do my human servant duties and bring them food! But, back to what I was getting at, since you may be losing your visual health check every day, you can replace that with a weekly weighing. This keeps you in tune with how your chameleon is or isn't growing and provides a regular handling which means you don't get tricked by the old chameleon trick of turning his good side to you all the time and then you find out that he has an eye infection on the other side.
Plants
Outdoor caging all of a sudden gives you a mind-boggling variety of plants that you can put in your cages.
Your cage can now explode with color by using cape honeysuckle, Arabian Jasmine, and ivy geranium. Virginia Dayflower and passionflower. Hibiscus. The list goes on and on! I seed my cages with nasturtium and freesia. Let your mind go beyond a hanging plant in the center of the cage and start landscaping! Are you not gardening inclined and have no idea where to start? I suggest going to your local home improvement store or nursery. Generally, they stock plants that will do well in your area.
Since you are building the cage custom add in hanging pots, window planters, or just shelves to hold potted plants so you can plantscape in 3 dimensions. You are looking for an open top third of the cage for basking and then a thick middle third layer to create a sheltered, shaded lower third section of the cage. That means sun loving plants in the middle and top and shade loving plants on the bottom. I will suggest smaller ornamental flowering plants up top, large leaf, foliage plants in the middle, and lush shade loving plants on the bottom.
If you have a bit of a green thumb you can consider doing a themed cage. By filling a planter with acidic soil you are now able to work with Camelias, fuschias, and thornless blackberry. One of my favorite cages in my past was my fuschia cage. I am doing a new fuschia cage right now and will post pictures when it matures a bit.
I love using annuals that vine or climb. Annuals will grow from seed in the spring and then die back in the winter. This means I plant seeds in the Spring time and by the summer they have climbed around the outside of the cage providing protection from the sun. By the fall they start to die back and the cage opens up to allow more sun in.
I'll just do a quick design example here and you adjust as is appropriate for your location.
First I select the plant which will be the center piece of the cage. This can be a "standard" shaped bush which means a plant which is normally a bush trained up on a trunk so it looks like a small tree. My centerpiece can be a standard Cape Honeysuckle or hibiscus planted in the ground or else it can be a hanging pot with a large overflowing pothos. In the top corners or hanging in the top third of the cage I will have ivy geraniums which will cascade down with large leaves perfect for drinking and will be a prolific bloomer with red, white, or pink flowers. On the floor of the cage in back I'll place some pothos which will sprawl and then climb. In the front of the cage I may plant nasturtium which is an annual to block the sun from getting to the lower levels in summer. Around the outside of the cage I would plant trailing nasturtium so it will climb up the sides of the cage giving me sun protection as well as a nice cottagey feel to the set-up.
And that is just one example of plants that do well in my area. Drive around your neighborhood and see what plants do well in your area.
I actually found myself having so much fun building the cages and planting them out that I ended up making more cages than I had chameleons. Of course, you know what happens when you have beautifully planted chameleon cages sitting around with no chameleons in them. That's right. Balance must be restored.
So, in conclusion, I am encouraging you to find a way for your chameleon to get some natural sunlight. Remember that even indirect sunlight has benefit! Baking is not necessary for this natural goodness. It can be as easy as bringing your inside cage out (carefully of course) or as involved as creating a dedicated permanent structure. Let me know if you decide to try this out! Outdoor caging is a world unto itself with many nuances. Hopefully, the podcast episode inspires you to try at least one of these.
The Dragon Strand caging company is the sponsor of this podcast and I naturally use the Keeper series screen cages on top of the planter boxes for my adventures in outdoor caging. I am currently using them with my smaller species such as thamnobates and jacksonii merumontanus. I use the 48" tall Large Keeper because it provides a great space for those and other's such as carpet chameleons, sternfeldi, and female panthers. You can check out the screen cage selection at dragonstrand.com.
One of the things I love about our chameleon interest is how we end up being exposed to so many other parts of this world. Doing outdoor caging may be your way of learning woodworking, irrigation and even specialized gardening. Would you believe I actually have plants in my yard that I planted specifically to farm chameleon perching branches? Do you know what a lap joint is? Well, I do now after making new wooden outdoor cages every year and getting better and better at them! This year I am working extensively with planter boxes. Next year I think I'll move on to gardening with the idea of attracting garden pests with which to feed my chameleons. It will be a loooong time before I run out of things to learn here! Thank you for joining me on this journey. Sharing it is half the fun! And for this week, my friends, that's a wrap.