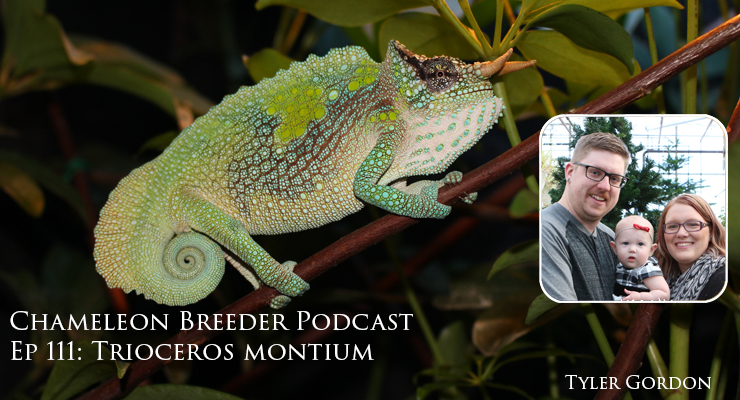 Trioceros montium. AKA The two horned chameleon. AKA The mountain chameleon. Is one of those incredibly decorated Cameroon chameleon species with crests and horns. It is no longer imported, but there are small pockets of breeders working with it. One of them is the team of Tyler Gordon and Kristen Zeller at Cage the Chameleons in Medicine Hat, Alberta Canada. Today we talk to this dynamic duo about their work with this rare chameleon.
Trioceros montium is a mid-elevation chameleon along the volcanic line in Cameroon. This volcanic line is a 990 mile long  chain of volcanos that starts in the Gulf of Guinea off the coast of Cameroon as a number of islands jutting out of the sea floor.  When it makes landfall, it produces some dramatic mountains across the border of Cameroon and Nigeria. On these mountains there have developed amazing chameleons found nowhere else with dramatic sailfins, bizarre horns, and ornate spiky beards. Trioceros montium is one of the most attractive with two long rostral horns and sail fin on the tail of the male.
Trioceros montium is no longer allowed to be exported and so we are left with whatever breeding groups survived the mass export of years past. The numbers are not encouraging. But there are a handful of breeders working with T. montium in both Canada and in Europe. Today we talk with Tyler Gordon who, with  Kristen Zeller, maintain a breeding group of this species.
This species will start to become available to the few who are experience and in the know. Hopefully, there is enough success that it will spread.
Trioceros montium Caresheet by Tyler and Kristen
If you are interested in following Tyler and Kristen and their T. montium adventures you can see what they are up to on the Cage The Chameleons Facebook group! Click Here! https://www.facebook.com/Cagethechameleons/