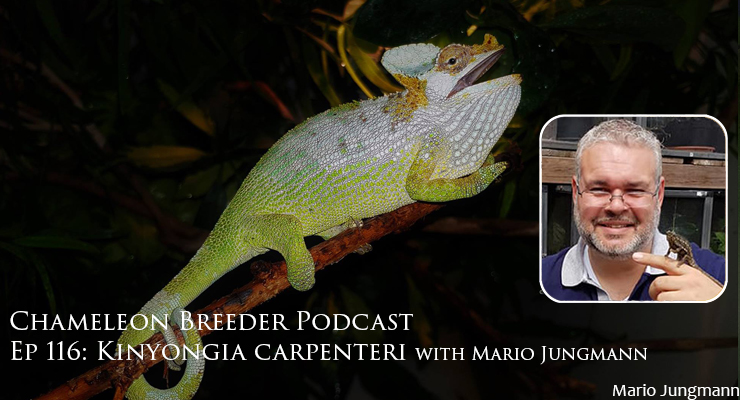 Kinyongia carpenteri. Most of us have not heard of this name. This is a rarely seen chameleon from the highlands of Uganda. Today we have Mario Jungmann, one of the few people to reproduce this species on to tell us about the husbandry. We may never have a Kinyongia carpenteri ourselves, but just hearing about the steps Mario took to figure out the care can help us the first time in whatever species we may bring home.
We hear about Veiled Chameleons, Panther Chameleons, and Jackson's Chameleons. When we get into the community we are exposed to Parson's Chameleons, Meller's Chameleons, and Carpet Chameleons. And the longer we stay the more we get exposed to chameleons that really don't have common names. Sure somebody somewhere has figured out a common name for all chameleons, but if you used it no one in the community would know what you were talking about! But, find them you will, and the deeper you get into the chameleon world the more you will find these chameleon wizards quietly working in their far off towers with these exotic species – purely for the love of working with the rarest of the rare and unlocking their secrets.
Of course, it is awesome talking to these breeders. They have decades of experience behind them and what they do. This podcast has been a golden opportunity for me, and a couple thousand of my closest friends, to get a glimpse into the breeding projects of these people. As interesting as it may be to hear about the care of a species many of us may not have even heard of, just listening to how an advanced breeder goes about figuring out the care requirements of a species that has little to no literature written about it is an excellent example of how we can approach any new species – even if it has care sheets available.
Today we travel to the Netherlands to a river cooled basement where some of the world's rarest chameleons are kept and bred. Mario Jungmann has been generous enough to record a second episode with us. His first was about fogging which is a critical component in his success with montane chameleon species. And now I catch up with him to ask some questions about Kinyongia carpenteri.
Kinyongia carpenteri is a canopy species found in the high elevations of the Rwenzori mountains of Uganda. It is a curious species that has a casque like a veiled chameleon and a short horn on its nose. I bring Mario on and we hear about his experiences!
A Kinyongia carpenteri Family Portrait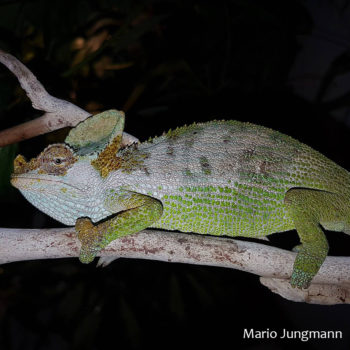 Male Kinyongia carpenteri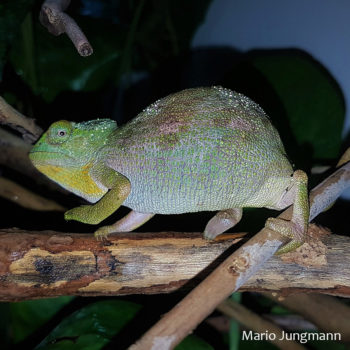 Female Kinyongia carpenteri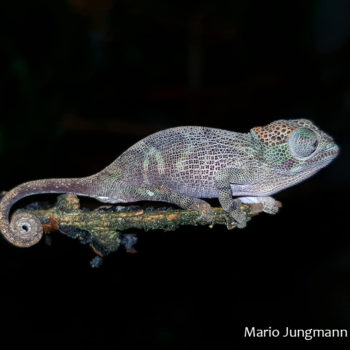 Juvenile Kinyongia carpenteri
Follow Mario on Social Media