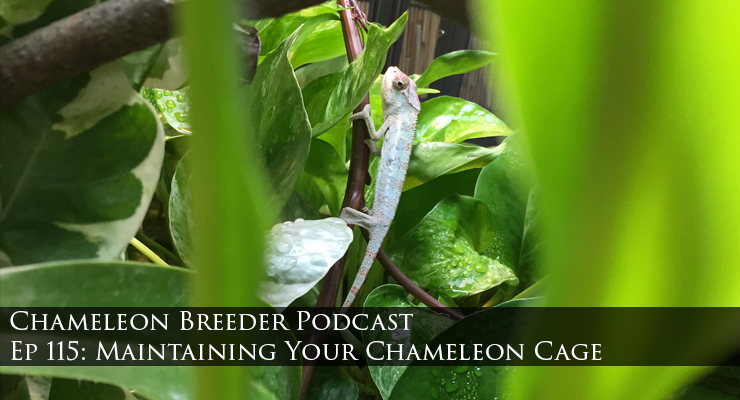 Maintaining Your Chameleon Cage
So you got your cage, did your research, listened to this awesome podcast, and made a gorgeous garden of a cage that fulfilled the Forest Edge 4+4 method from podcast episode 114 perfectly. And then, you introduced the newest reptilian member of the family. What now? Well, I have to let you know that I have dived as deep as I can into how to take care of these little guys and I am only one of a number of people who have done so there is plenty of good information out there, but we are just learners. You have now brought the true master into your home. That is right. We must all bow before the authority of that 4 month old panther chameleon who knows chameleons 100 times better than the best of us.
Once you have your cage set-up and it hits all the numbers in the caresheet perfectly your next step is to throw away the care sheet. From this point on, you are going to adjust your cage based on the behavior of your chameleon. Caresheets are general numbers that have generally worked. You are working with a specific chameleon in your specific room environment. So, the caresheets are not wrong. But view them only as a starting point to get everything set-up. This is the third module in a three part podcast series. It started with episode 113 which helping understanding how to select the right cage type and continued to episode 114 where I introduced the Forest Edge 4+4 method of putting together an effective chameleon cage. I am going to close it off in this episode by addressing how you interpret your chameleon's behavior to refine the details. Every chameleon will be different. And they may do the unexpected. We need to adjust to their particular comfort levels.